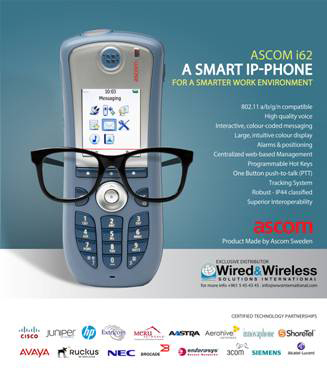 The Ascom VoWiFi solution can offer data and voice transmission in one network with seamless roaming.

Ascom VoWiFi system combines voice, messaging and alarms enabling a safe and secure work environment and unique integration ability to link systems, personnel and machines.

That is why the Ascom VoWiFi handsets and supporting systems are designed to accommodate open standards for communication systems, such as IEEE 802.11a/b/g/n for radio networks and SIP/H.323 for VoIP telephony.

The VoWiFi system also supports 802.11i, 802.11x and 802.11e ensuring high level of security, authentication and voice quality.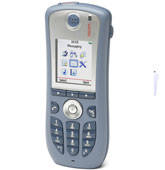 Ascom i62 VoWiFi Handset
I62 is one of the first VoWiFi handsets operating on an 802.11n network. It supports deployment of voice over the network without degrading the performance of an existing .11n network capacity.
Features:
Intuitive color display
Water, dust and chemical resistant for easy disinfection
Local, central, company phonebook
18 Languages, 1 customizable
Push-button alarm with distinct alarm types
Man-down/No-movement alarm
Interactive messaging
Voice mail
Built-in loudspeaker
3 programmable soft keys
9 programmable hot keys
Call history list
Vibration alert
Easily replaceable battery for 24/7 use
Centralized Management