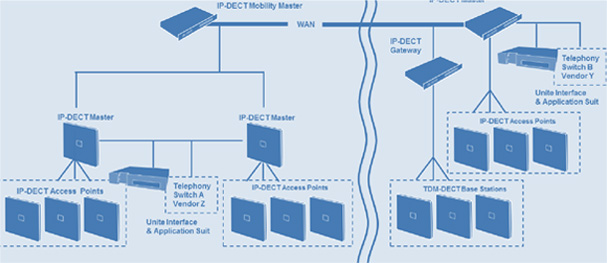 The Ascom IP-DECT system combines the VoIP and the traditional wireless DECT solution in an innovative package offering a future proof, reliable and flexible wireless solution for on-site voice and personal alarms in a secure radio environment.

The solution is based on standards like SIP that enables interoperability with most of the leading PBX suppliers today and the Ascom Interoperability Program takes the guesswork out of deploying wireless VoIP networks.

Yesterday and tomorrow is taken care of since the IP-DECT offering contains VoIP Gateways that can migrate e.g an analog system and combine it with a modern IP-PBX solution in one and the same IP-DECT system.

The scalability and flexibility of the Ascom IP-DECT offering is best in class based on the possibility to start small with just one or two IP-DECT access points and later scale up to 1000s of access points and 100s of IP-DECT gateways offering wireless services to 100 000s of users on different sites all over the globe.