Security
HD LPR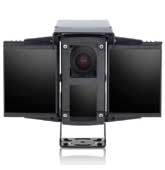 HD LPR
Key Features:
High-Definition Resolution.
Single Camera, Multiple Lanes.
Roman and Arabic Alphabet Support; Automatic Worldwide License Plate Recognition.
Benefits
High-definition resolution delivers images captured in accurate and precise detail.
Provides wide coverage so you need fewer cameras, reducing installation and maintenance costs.
Can be used in markets throughout the world.
Model and Target Distance
1L-HD-LP-35: 35 ft / 11 m
1L-HD-LP-50: 50 ft / 15 m
1L-HD-LP-75: 75 ft / 23 m
1L-HD-LP-100: 100 ft / 30m
2L-HD-LP-40: 40 ft / 12 m

Follow Us On :